Cherry Walk in Coldroom for Sale in Chile
Walk in Cold room
is located in Chile by OnlyKem manufactured. We always consider
fruit features, for example, if the fruits need humidity for better storage, if the fruits
need
atmospheric conditions to prolong the storage time, our engineers design it
professionally
according to fruits features, so our walk in cold room can keep foods
for long time. Looking
forward to your requirements, we will design, manufacture
and guide installation for you!
Why does cherry need walk in coldroom to keep?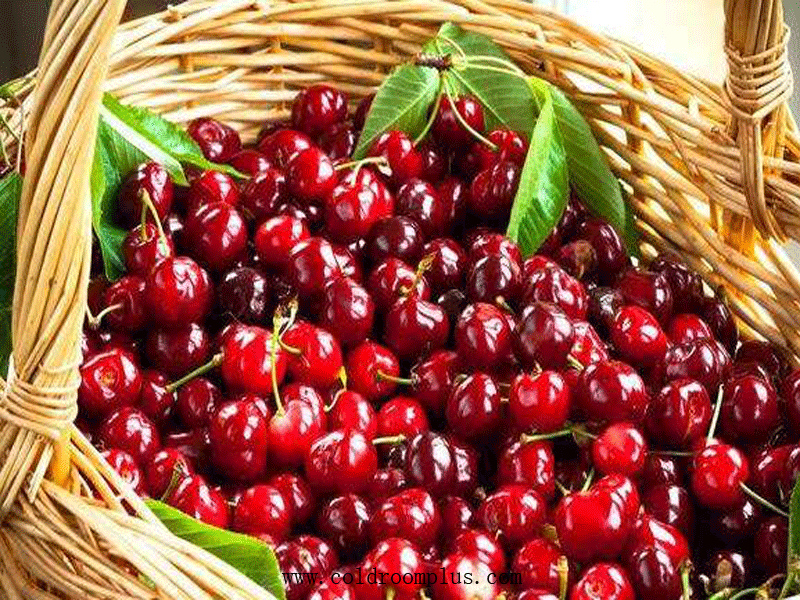 Cherry Walk in Coldroom for Sale in Chile
Cherry belongs to berry, it includes much cherry juice, it is hard to keep fresh with
much juice.
Cherry gets ripping early, after the harvest, physiological metabolism is
exuberant, so the lifespan
period of cherry is very short, cherry shouldn't get touched
with water, cherry stalks can not be
removed, and we need to put it in a ventilated
place, cherry can not be squeezed, all of these
solutions could ensure the good
appearance of the cherry. Without walk in coldroom, it is hard
for us to taste cherry
for long time. That is why there are many walk in coldrooms in our life.
How to keep cherry with walk in cold room?
Cherry storage including two steps. Our Chile customer ordered one pre-cooling room and one
walk in coldroom from us. Now let me introduce their details as follows:
1.First step is pre-cooling it with pre-cooling room, when people collect it from farm,
cherry
temperature is similar to ambient temperature, it is around 25 to 30 degrees
celsius, it is going
to get stale under so high temperature, so it need pre-cooling to
cool down be 5 degrees celsius
within short time.
Pre-cooling room details as follows:
添加图片说明
Dimension: 5m*5m*2.5m
Temperature: -30 degrees celsius
Compressor: German brand Bitzer compressor
Some customers may have a question about pre-cooling temperature, why do we
need -30
degrees celsius? It is very low temperature, won't cherry get damaged
with so low temperature?
Our answer is no. In the pre-cooling process, room
temperature is not same with cherry temperature,
with -30 degrees celsius room
temperature, it can cool down cherry temperature soon, after some hours,
cherry
temperature was cooled to be 5 degrees celsius, we transfer them into walk in
cold room for fresh storage.
2.Second step is transferring cherry into walk in coldroom after the pre-cooling.
Cherry Walk in Coldroom for Sale in Chile
Walk in coldroom details as follows:

Dimension: 10m*10m*2.5m
Temperature: 0 -5 degrees celsius
Compressor: German brand Bitzer compressor
Generally, the suitable storage temperature for cherry is 0~5 °C, the freezing point of
cherry is about -2 °C. Therefore, if the storage temperature is too low for cherry, which
is easy to cause the cold damage for cherry fruits, it is not conducive for cherry storage
and preservation. In addition, the suitable relative humidity for the cherry storage and
preservation is about 90% to 95%, so we added humidifier in walk in coldroom for our
Chile customer.
Advantage of OnlyKem walk in coldroom as follows:
Cherry Walk in Coldroom for Sale in Chile
1.PU sandwich panels for walk in coldroom:
We upgraded raw materials of PU sandwich panels, we forbidden using FC11 material,
and upgraded to be HCFC-141B, HCFC-141B is more environmental friendly than
FC11.
In addition, we adjusted the ratio of each raw material, density has updated
to be 44KGS/M3
now, previous density is 40KGS/M3. With new density, insulation
is more better. In a word,
current PU panels are more environmental friendly than
previous panels, it is not only
contributed for World environment, but also healthful
for cherry storage inside of walk in coldroom.
2.Condensing unit for walk in coldroom
Specification:
Condensing unit includes New original German brand Bitzer compressor
,
crankcase heater, vibration absorber, air cooled condenser with large heat exchange
area, axial fan,
liquid receiver tank, sight glass, dry filter, solenoid valve, dual pressure
switch, dual pressure gauges,
oil separator, suction accumulator, etc.
Advantages:
Our condensing unit is complete, including all components, some supplier
s do not include
oil separator or vibration absorber, it is not good for whole system
running in long terms. In addition, we use
Danfoss brand for some important components
, such as Danfoss sight glass, solenoid valve, pressure gauges,
it could extend long
lifespan, some suppliers use other brand components for them,
there is big quality
difference between them.
OnlyKem Technology Co., Ltd. is the leading walk in cold room and refrigeration unit
designer, manufacturer
and exporter dedicated in supplying finest quality walk in
cold room solutions to Worldwide customers. There
are many projects in many
different countries now, such as the USA, Canada, German, Australia, New Zealand,
Mexico, African countries, Southeast Asia countries and so on. We have mature and
advanced technology in
refrigeration field, we have experienced engineers, OnlyKem
aim to build our walk in cold room in all countries
of the World!